Interpolation unit IPE2000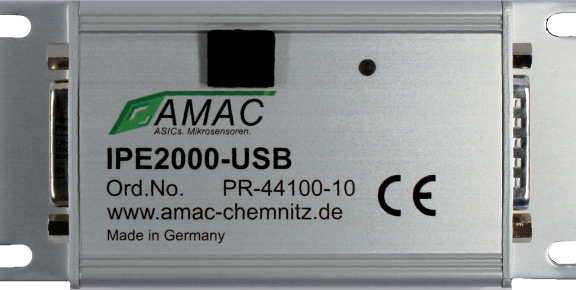 The programmable interpolation unit IPE2000 - USB is intended for connection to incremental position and angle measuring systems with sinusoidal input signals phase-shifted by 90 °. It can be used on a large number of encoder systems that work according to a wide variety of measuring principles,
operate. The IPE2000 - USB realizes a subdivision of the signal periods up to 2048-fold. The interpolation unit works with both single-ended and differential input signals. The configuration can be done via the EEPROM or via USB. The
Possibility to equip the unit with a serial interface and / or an active current / voltage converter.
An AMAC-specific gain and offset control as well as the possibility of phase correction of the internal GC-IP2000 guarantee a high measurement accuracy under industrial conditions.
The unit can be connected to a standard meter or controller via the RS422 interface. The internal operating voltage is 5 VDC.
The functions of the interpolation circuit GC-IP2000, such as switchable analog filters or digital hysteresis, make the unit ideal for use in control systems.
Features
Analog part

Analog input

Sine / cosine / reference (index) signal; differential or single-ended
Nominal amplitude 1 Vpp / 500 mVpp / 250 mVpp / 75 mVpp
Maximum input frequency 260 kHz for all resolutions
Optional: active current / voltage converter for the use of encoders with current interface
Digital part

Interpolation rate

2048 / 2000 / 1600 / 1024 / 1000 / 800 / 512 / 500 / 400 / 256 / 200 / 128 / 100

Output signals

30-bit counter value via USB, serial interface (SPI) optional
Data rate up to 500,000 readings per second
90 ° rectangular sequences (A / B / Z)
Error signal
Auxiliary signals for the sensor adjustment
RS422 interface
5V

Signal correction

AMAC-specific digital controller for offset, control range ± 10% of the nominal amplitude
AMAC-specific digital controller for amplitude, control range factor 0.5 ... 1.5
Digital potentiometer with 40 steps for phase correction; Selectable setting range ± 5 ° or ± 10 °
LED control signal

Configuration options

USB, EEPROM or optional serial interface (SPI)

Optional SPI interface

Compatible with standard SPI: 16 bit, MSB first
SPI - clock up to 25 MHz
For configuration and output of measured values; is not required for minimal systems
5V or 3.3V interface

Miscellanious

Interference suppression

Switchable analog noise filter
Digital hysteresis to suppress the edge noise at the output
Adaptation of the IC to
Successor electronics
Adjustable minimum edge separation at the output
The behavior of the IC in the event of sensor errors can be programmed
Adjustable width zero signal Z of ¼ or 1 period A / B

Important characteristics

Operating power


5VDC

Temperature range

-20...80°C

Housing

Continuous cast profile 55 mm x 80 mm x 20 mm mounting bracket

| | | |
| --- | --- | --- |
| Product type | Description | Article number |
| IPE2000 | Interpolation unit with GC-IP2000 | PR-44100-10 |